The SBCD Story
Welcome to SBCD Korean Tofu House!
SBCD Korean Tofu House aims to uphold its kitchen philosophy of serving uplifting and complete meals by presenting the best of its delectable traditional Korean soft tofu stew. SBCD specializes in a variety of Korean soft tofu soup, where the "soon" in "soontofu" means soft. Every Soontofu dish is created with soft and silken tofu that is hand-made fresh daily in the SBCD kitchen, from specially imported soybeans from Paju, South Korea. The 10-ingredient secret recipe soup broth is also what keeps customers coming back for more. Other favourite Korean meat dishes include L.A. Galbi, Spicy Grilled Chicken and many others.
ABOUT: OUR FOUNDER, CHEF NAM KYOUNG SOO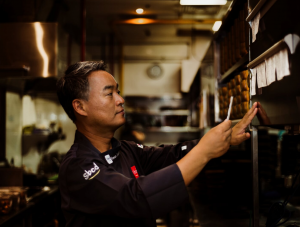 The chef and restaurateur started from humble beginnings almost two decades ago, in the fast moving hotel culinary scene. Chef Nam embarked on his culinary journey at several prestigious hotel chains in Seoul, one of which being Hilton Seoul and specializing in Italian cuisine. He later ventured out to be a part of the core culinary team of international seafood and sushi buffet giant, Todai USA and Singapore. "The Mother of all seafood buffets." Is what Los Angeles food critic, Elmer Dills, once described Todai.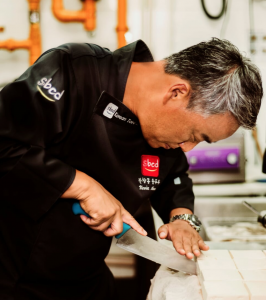 9 years on, in 2016, he founded SBCD Korean Tofu House, going back to his cultural roots, with the passion to bring authentic and wholesome Korean cuisine to Singapore. With a strong foundation in gastronomy, Chef Nam translates his knowledge and passion for food to SBCD's menu selections and places strong emphasis on using only the highest quality ingredients and best cooking techniques.
He leads his core culinary team with vigor, passing on his experience in the F&B scene as advisor for major decisions of the restaurant including the import and use of ingredients, menu selections, etc.
Albeit a staple comfort food for many in Korea, SBCD's signature dish, the Soontofu soup (where 'soon' means soft), is a more intricate version of the usual fare that customers can find at other Korean restaurants in Singapore. This stems from the belief of founder, Chef Nam Kyoung Soo, to bring out only the finest in everyday comfort food, for everyone to enjoy.
ABOUT: OUR BEANS & FRESHLY MADE TOFU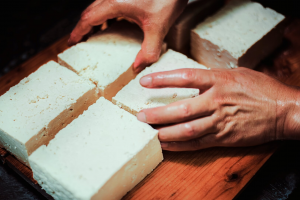 SBCD's Soontofu is made with a rigorous preparation process, where mature white soybeans that are specially imported from Paju, South Korea, are boiled, curdled and pressed for the perfect taste and texture.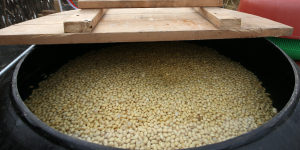 Paju, South Korea is located within an hour's drive northwest of the capital city, Seoul and is within close proximity of Korea's Demilitarized Zone (DMZ). Due to the untouched and pristine nature of the DMZ and its proximities, fresh produce sourced from Paju remains one of the top choices in terms of quality for many local merchants.
ABOUT: OUR SOONTOFU SOUP BROTH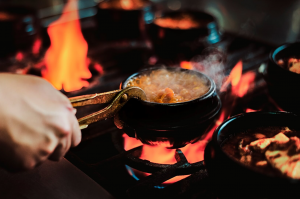 Every soontofu dish at SBCD Korean Tofu House is created with 4 different levels of spiciness for the broth – mild, medium, spicy and crazy hot. With an intricately prepared 10-ingredient secret recipe soup paste ('dadaegi' in Korean), it is what makes SBCD's soup broth so flavoursome and keeps customers coming back for more.
The signature broth is put to boil and left to set for a couple of days, in order to bring out the full flavor of the natural ingredients without having to add artificial flavouring. This secret recipe took Chef Nam 8 years prior to opening of it's flagship restaurant, to research and perfect. With unique ingredient pairings for SBCD's Soontofu selections such as abalone, oysters, flower crab, fresh tiger prawns, the broth is a great complement, making this signature dish a top favourite.